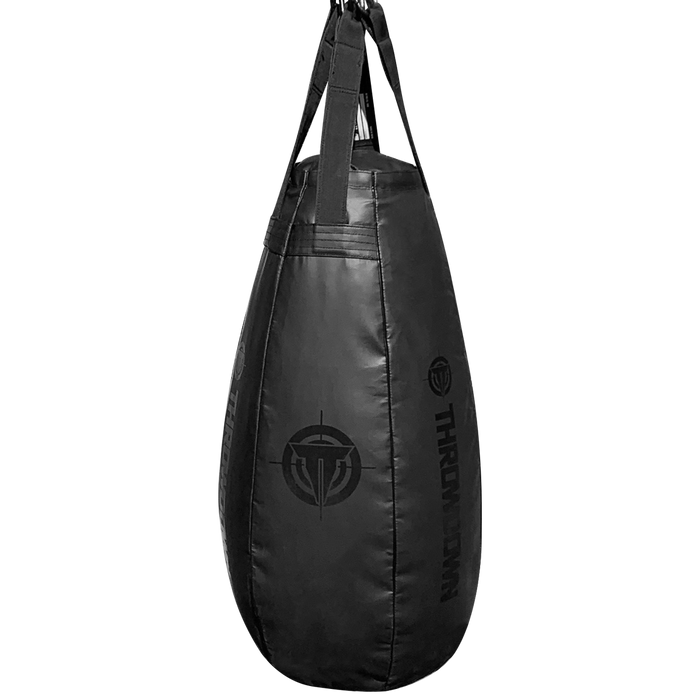 Facility Series Teardrop Heavy Bag
Pro-level punching bag performance for your facility or home gym.
The Teardrop Heavy Bag is a great choice as your first punching bag for your gym. This bag is small and versatile giving you realistic angles for jabs, crosses, and uppercuts to develop speed, timing, and accuracy. The smaller size and weight make it easier to setup.
PERFORMANCE FILL: The Facility Series Teardrop Heavy bag is filled at the core with 100% textile fill. There is no added sand weight that can shift and create dangerous hard spots in the bag.
DURABLE CONSTRUCTION: Constructed with our durable and cleanable T-Flex Poly Shell creates the gold standard in punching bags for facilities and home gyms. Punches… Kicks… This heavy bag can take anything you throw at it.
ALL INCLUDED: We include our proprietary hardened black clips and swivel. These aren't the off the shelf hardware store pieces. We have designed these with materials and processes that will extend the life and improve the performance of all punching bags.
COMMERCIAL-GRADE:  THROWDOWN is the Original Impact Sports Brand, perfecting our products together with elite MMA athletes, trainers, and coaches for nearly two decades. Our Facility Series Teardrop heavy bag is designed to withstand the punishment of commercial facilities. Constructed with the most durable materials available and are easily cleanable.

Technical Specs:

 

17" diameter, 35" in length, weight ranges from 70-85 lbs. **We focus on the firmness of the heavy bag rather than weight to give you the most consistent feel and performance**

Save

0

%
Save %
Original price
$199.99
-
Original price
$199.99